Autumn Newsletter from Garden Farms Foundation
Happy fall everyone!! Check out our Newsletter here, and enjoy this delicious Autumn recipe!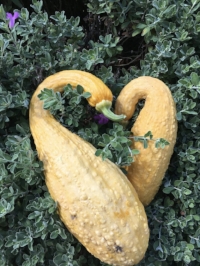 Nourishing Traditions by Sally Fallon (serves 4)
You will Need:
4 small Yellow Squash
Sea Salt
1 medium Onion, thinly sliced
2 medium Tomatoes, peeled, seeded and chopped
2 Tbsp crispy Pine Nuts
1 Tbsp finely chopped Parsley
4 Tbsp extra virgin Olive Oil
Remove ends from Squash and use food processor to cut them into a julienne.

Sprinkle with Sea Salt and let sit about 1 hour.

Rinse well and squeeze dry with a tea towel.

Sauté Onion in Olive Oil until golden.

Add Squash and Tomatoes and sauté a few minutes more, over medium-high heat, stirring constantly.

Stir in Pine Nuts and Parsley.